The State of Cybersecurity Today
Security analysts depend on a broad scope of information to confirm their defenses are identifying and assembling indicators of compromise. But your cyber-adversaries are also information-dependent and, frequently, information-rich. Circumventing defenses, evading detection, compromising systems and perpetuating data breaches are happening far too often. With the stakes this high, you need to know whether your security organization is winning the battle.
View the pre-recorded Cybersecurity Audience-Directed Webinar with Frost & Sullivan. Cybersecurity leaders like you asked questions of a Frost & Sullivan analyst, who provided his perspective on how to elevate your organization's risk management capabilities.
Here are sample topics that were covered:
Best practices in information gathering, filtering and correlating along with incident response

Challenges to overcome in terms of people, processes and technologies

Division of labor — what works and what doesn't

How to gain the support of colleagues in IT and network administration in advocating for enhanced cybersecurity operations

Whether beneficial change can truly happen incrementally or a major overhaul is security operations is required

How to make end users part of the solution

How you, the "buck stops here" cybersecurity leader, can define success

Presenter: Michael Suby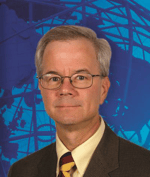 The Cybersecurity Webinar will feature a presentation by Michael Suby, vice president of research for Stratecast, a division of Frost & Sullivan. In his executive role, he oversees the business operations of Stratecast and its research direction. As an analyst, he contributes to the research themes of Stratecast's Business Communication Services analysis program with a concentration in secure networking.
Suby's secure networking analysis is centered on the technologies, products and services designed to improve the security of enterprise networks, their business and consumer-facing applications, and sensitive data at rest, in use and in motion.
---
Partners in the Battle Against Cyberthreats

This video features representatives from CompuCom and Intel discussing cloud technology services that enable customers to curate best-of-breed offerings and aggregate security data across multiple clients. They also introduce CompuCom's new managed security offering, which is based on the Intel platform.

Learn about our Managed Security Information and Event Management Services. More >